Embedded Repair Centers
In order to provide an operational advantage to our global network of clients, DEX implemented the DEXPod Solution. We've strategically placed DEXPod facilities in key international locations to address the business needs of multiple geographical markets. Each DEXPod serves as a portal to all of DEX's high-tech solutions, providing access to DEX's experts and services from anywhere in the world. In addition to offering enhanced global-network access, each DEXPod is managed and operated on-site by certified DEX experts and technicians who are capable of providing the full range of services available at our larger plant locations.
---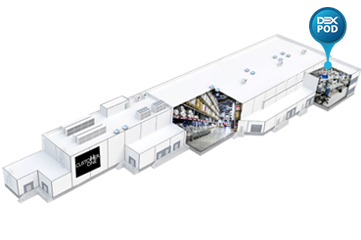 Our DEXPods allow us to provide faster turn-around times for our customers, reducing down time and increasing their windows for generating revenue. Each facility runs a smaller internal staff, which means we are also able to pass the reduced operational costs on to our clients as savings in the form of the lowest possible pricing. Finally, DEX optimizes its DEXPod operations as neatly as its larger facilities', guaranteeing the most efficient processes for fulfilling our customers' needs and reducing each facility's carbon footprint and shipping costs. The DEXPod Solution allows DEX to be anywhere in the world you need us to be!