Electronic & Electromechanical Repair Services
Our years of high-tech repair experience have provided us with the understanding that product repair is accomplished most efficiently by the collaboration of engineers and technicians. We credit our success in this field to our ability to consistently deliver precise, accurate, and functional repair results, regardless of the diminished condition of the parts arriving for restoration.
---
DEX offers diagnostic testing and failure analysis, Field Replaceable Units (FRUs), component-level repair, and cosmetic/engineering change order upgrades. The experience and expertise of DEX's engineers and technicians play an integral role in exceeding service requirements while minimizing costs, giving our clients the competitive advantage necessary for greater success.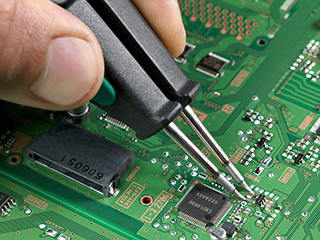 For products with component parts that are no longer available or when test procedures and schematic documentation do not exist to create a repair process, DEX provides reverse engineering solutions to assure you have access to the parts you need. When our technicians reverse engineer a product, the repair cost is often one-fourth to one-third the cost of buying the replacement products.
From each Tech Station, DEX's specially trained, A+ certified technicians scan and upload information in real-time through each step of the repair process. This information is used for the training and viewing of all records of repair on a product, significantly reducing repair time and assuring products are returned quickly to our customers.